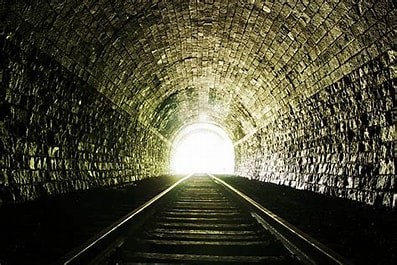 March 23, 2023
There is light at the end of that tunnel!
I am always being asked "What do you do for a living?" and when I tell them, they always respond with surprise and say "That must be a very rewarding job?"………..
Ten years ago when I was working as an IDVA in central London a young woman was referred to me by Children's Services. She had 3 children aged 8, 2 and 1. The social worker said to me, "she is hard to engage Sharon. I don't think she will engage with you but she is at serious risk of losing the kids". All three children were on child protection plans. I'm not going to go into detail now or here but suffice to say, this woman had found herself in a really abusive relationship which she was struggling to accept or know how to get out of. She wasn't sure if she even wanted to get out of it, out of fear. But she knew she had too. Her partner and father to her two youngest children was physically abusive and coercively controlling. She believed he had mental health issues and he did. However, this didn't excuse his behaviour towards her or the children who regularly witnessed their fathers abusive behaviour.
When I met her – Jade – I don't know what sort of person I was expecting? I had worked with many 'hard to reach' women. Children's Services seemed to feel I had a bit of a knack of getting these women to engage when they couldn't. Nah!! I was just me! I wasn't a social worker. Not that there is anything wrong with social workers. There isn't, but the fact of the matter is, there is still a huge taboo about social workers. Women still have this misunderstanding and fear that social workers take your children away. And Yes, they can, if there is good reason to, if the children are not safe, but that isn't what they want to do. Still, it was always one of the first things I said when I introduced myself to new clients. "I'm not a social worker. I am an Independent Domestic Violence Advocate". I am here for YOU". I very rarely had a client that didn't want to work with me and if they didn't, they weren't rude to me about it.
The first time I met Jade, I was struck by how conflicted she was. Father of her children. Man she loved. Who she desperately wanted to help, wanted to help change. Yet, she knew that to keep her children, she had to end the relationship. She had tried and failed many times. Not unusual. Most women in abusive relationships will leave on average 7 times before they manage to leave for good. She was afraid but incredibly stubborn! and wouldn't admit that she was!
I worked with Jade for a long time. I went to her home to see her and we would talk about how she felt, about the times she had been assaulted and how confused she felt. She lived in a high rise block of flats. Invariably the lift would be broken and she would struggle downstairs carrying her baby daughter with one arm, holding her 2 year olds hand and watching her 8 year old. Later, when she did The Freedom Programme, which I facilitated, she told the group about how her ex partner would go to work and always 'forget' to take the buggy out of the boot of the car. She could, by this time, recognise that this was abusive. That he was coercively controlling her and isolating her by doing this. If the lift was broken, it would often sometimes just be too much to try and manage three small children down the stairs and carry the baby to the shops whilst trying to keep hold of the older two. So she wouldn't go out. For him – job done! Mission accomplished. It took a long time for Jade to see this as abusive behaviour and understand it. Instead, she pottered about her flat and grew plants. Every time I went to her flat after she had separated from him she would be trying to nurture some strange indoor plant. I guessed at the time, it kept her occupied and distracted.
I used to go to the Child Protection meetings with her to give her some support. I went to court with her when she bravely testified against him. This so 'hard to engage' woman did everything she possibly could to keep herself and her children safe. She hated the social worker with a vengeance. She felt judged, misunderstood. It wasn't the social worker. It was the system! Yet, when children's services decided that the situation was safe enough for the children to come off of Child Protection, Jade asked for them to be kept on! I will never forget the look on the social workers face. Jade recognised she and the children still needed support. She accepted that the social worker was just trying to help her.
Although she argued about it, Jade no longer needed me in her life. I closed her case whilst assuring her that I would just be on the other end of the telephone if she needed any advice or support. About a year later, Jade rang me and told me she had met someone. She said he was lovely but she had not forgotten my advice and wanted to make a Claire's Law application, just to check that he was ok, although she was 100% sure he was. She asked me if I would go with her to any meetings the police asked her to attend as a result of the Claire's Law process.
Jade was called to attend the police station to speak to a police officer from the Community Safety Unit (CSU) about her Claire's Law application. I went with her. I knew that the fact that she had been asked to attend, was not good news! But I didn't say anything. She needed to hear this in the proper way. Instead, I cleared my diary for that day. Jade was informed that her new partner was a serial perpetrator of domestic abuse. He had been reported for violence against previous partners several times. Jade was shocked and upset but also furious. She had trusted this man. She had told him about her experiences of domestic abuse with her ex partner. She had asked him if he had ever been abusive. He had lied and told her, of course not.
Of course, Jade had to sign a legally binding agreement that she would not discuss what she had been told with anyone other than an IDVA, so luckily, she could discuss it with me. We left the police station and she asked me to be with her when she called the man and ended her relationship with him. She felt if I was not with her, she would tell him the information she had learnt from the police. She called him and of course, he was shocked. Couldn't understand it. They had been together the night before and everything had been fine, more than fine. Jade didn't breach the agreement. But my god, she wanted to! And with good reason I felt. I realised then that although Claire's Law is a fantastic resource and helps so many women, but there is a flaw. Women do not realise they will have to sign a legally binding agreement not to discuss the information they are told with anyone. This is bad enough when that person has an IDVA, but some women do not have an IDVA. They don't have anyone. Ever since that day, whenever I facilitate a Freedom Programme I always tell the women on the group about Claire's Law and about what happened to Jade. I don't do it to put them off applying for Claire's Law. On the contrary. I encourage them too, just like I did with Jade. But I make sure they have all the facts of what is required of them if they do.
Fast forward to Monday 6th March 2023. I received a message from Jade on Instagram. It turns out she had been following me for months, just not under her name. She told me that she had never forgotten me and that she wanted me to know that she was now a published author. She was also the 'My Chelsea Garden' RHS Gold Medallist and is the Plant and Flower Installation Director for Hilton and Me London Hotels in London. She has made a successful career out of her love for indoor plants. Jade wanted me to know that what I had done to help her had been life changing and that her and her children "have been living our happy ever after and you contributed to that"!
Pride? I was bursting with it! I didn't ever doubt that she would have her happy ever after life but for her to have had the confidence to achieve everything she has, has absolutely blown me away.
So when someone says to me, "That must be a very rewarding job"? I smile and say Yes, it really is!
For those of you reading this that are experiencing domestic abuse or have experienced it and feel that there is no way out and no light at the end of the tunnel – I really hope Jade's story gives you hope. There is a light at the end of the tunnel! And you will find it.
Thank you Jade for giving me your permission to tell your story.  You are amazing XXX