Meet The Dominator!
The Dominator was inspired by The Deluth Domestic Violence Intervention Programme in Minnesota.
 
He is also the main focus and point of reference in The Freedom Programme.  He can be used to 'de-personalise' a woman's abuser if she does not want to talk specifically about her own experiences. Most women who attend my programmes will start off not wanting to discuss their own situations and will refer to 'The Dominator'. However, 99.9% of the time by the time we reach session 3 of the programme, women are naming their abuser and are sharing their experiences with other women on the programme.
The Dominator is one man.  But he can change into many other characters to use different forms of controlling and abusive behaviour.  He can change from one character to another very quickly.  All abusive men will have at least one of the personalities below.  When I show women this diagram and ask them to circle the characters they recognise in their own abusive partners, usually they will circle at least half of them, but more usually more than that.
Let's look at the different persona and traits of The Dominator more closely, as taken from the official Freedom Programme – and the book 'Living with the Dominator'.
The Bully – He uses intimidation to control his partner by: shouting, glaring, sulking, driving too fast and firing questions at her without giving her a chance to answer. As a result, she believes he is angry and tries to placate him. But The Bully is not angry! He is cool, calm and collected and completely in control of his emotions. What does he have to be angry about
The Liar – He makes the abuse appear less than it actually is. "It was only a slap!  The Liar will blame everyone else and everything else for his abuse.  Drink, drugs, depression, work, stress – HER!  He will deny there is any abuse and he is extremely believable!
The Sexual Controller – He uses sex to control her.  He rapes her.  He may reject her which makes her feel unwanted and undesirable.
The Headworker – The Headworker uses emotional abuse to control his partner.  He may tell her she is ugly, stupid, fat. He may never use physical violence.  He may never need to!  He has all the control he wants and needs by being coercively controlling and emotionally abusive to a point where she will lose all self confidence and self esteem.
The Badfather – The Dominator uses the children to further abuse his partner. Even after separation, he will use the family courts to harass her for contact with the children.  Often, it is not about the children.  He is not interested in them!  It is simply a further means of controlling his ex partner.  He will make threats that Social Services will take the children away if she leaves him because she won't be able to cope.  He will undermine the mother by over ruling any discipline she may give so that they do not listen to her or do as they are told.
The Persuader – This persona usually comes into play if she leaves the relationship or threatens to. He will tell her he is sorry, that it will not happen again.  That he will get help.  He will cry.  He may threaten suicide and she will feel so guilty and fearful of these threats that she will take him back.
The Jailor – He isolates his partner by sulking whenever she has friends over or her family.  He will refuse to 'baby sit'! the children when she has arranged to go out or go to work.  He is the life and soul of every party and charming to everyone he meets.  Thereby making his partner feel that she will not be believed if she tells anyone of his abuse.
The King of the Castle – He controls his partner by treating her like an unpaid servant.  He expects her to do all the household chores and does not lift a finger to help.  If she insists he does do something to help around the house, he will do it so badly that she doesn't ask him to do it again!  He controls all the money.  The benefits are all in his name and she has to ask if she wants money for food shopping or the children's school uniforms.
What makes The Dominator want to control women? – The behaviour of The Dominator is based upon his beliefs.  This applies to us all.  All our actions are motivated by our beliefs.  We often see our beliefs as facts but in truth, we do not actually know what we believe!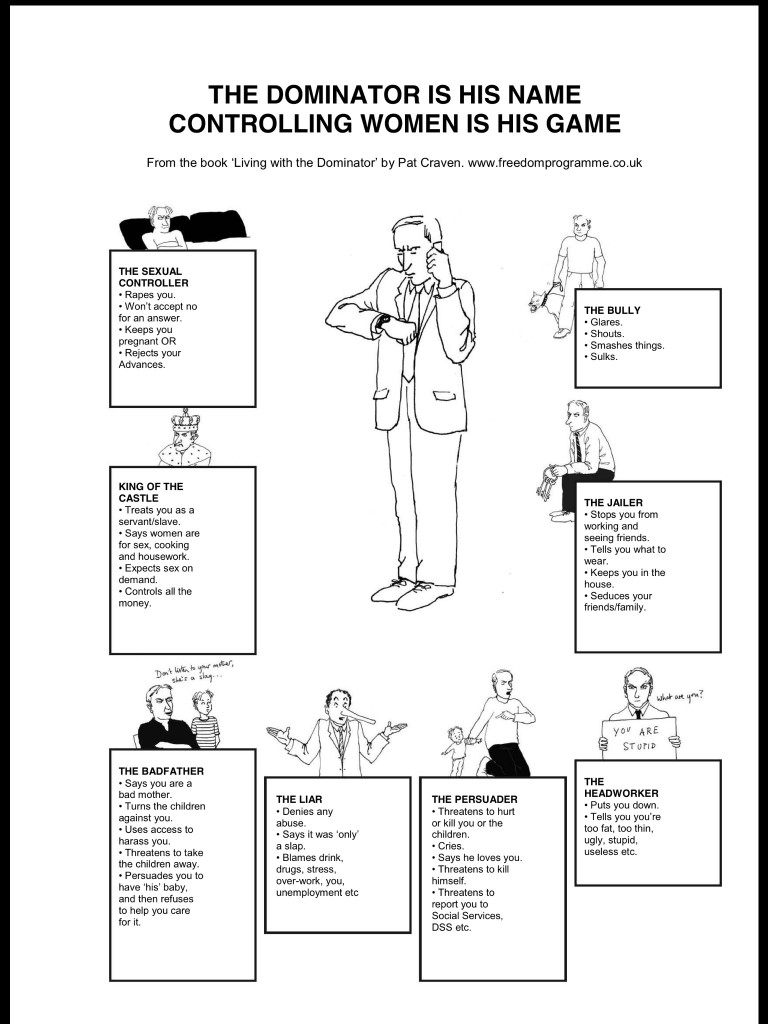 The Freedom Programme looks at all the above personas and traits and tactics used within each of these. Each session of the programme, we discuss and 'pull apart' a different one of the above in order to further understand why and what makes men abusive. However, it should be noted that these tactics can be used by women as well to abuse men and also by men or women in same sex relationships. The difference is that, in the case of abusive men, they are more likely to use violence when they believe the tactics of coercive control are failing. As a result, a woman is murdered every three days in the UK.