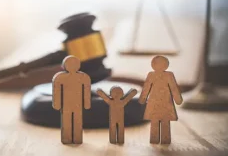 September 5, 2023
Parental Alienation & The Family Court.
The words, Parental Alienation, appear to be a new thing? Well, new, as in the last three or four years. Before that, I never heard the words when working with victims and survivors of domestic abuse. Now, it is all I hear!
I wanted to write about this because I read a newspaper article yesterday and I shared it on my social media platforms. I accompanied it with a statement – "Sadly I have worked with hundreds of women over the years who have experienced post separation abuse, aided by the family courts. Our judicial system is broken. When will it be fixed?"
The post appears to have generated a fair bit of interest, both positive and negative. In relation to the negative comments, and before I go any further – of course, I know and understand that male victims of domestic abuse also get unfair treatment in the family courts. However, the article in which I speak about (link below), is about women and therefore, I am responding to THAT article – about women.
https://www-bbc-co-uk.cdn.ampproject.org/c/s/www.bbc.co.uk/news/uk-66531409.amp 
I don't ever respond to negative criticism online. It isn't worth it as you just become involved in a he said, she said scenario. Those of us that work in this sector are used to being labelled as 'sick, twisted, bitter, spouting feminist BS!. I have had it all in my time. You harden against it after a while.
Now – onto the main reason I wanted to highlight this article.
I went through the family courts 35 years ago! There wasn't any 'Parental Alienation' claims being thrown about in the family courts then. My abusive ex-husband was serving a lengthily prison sentence for stabbing me and he applied to the court for contact (or access, as it was called then). And he got it! From prison! Yes, you are reading that correctly. Even though he was in prison for serious offences against me, the family court ordered me to take our little girl to the prison once a month to see her father. I tried to challenge this decision but the judge just told me if I did not adhere to the court order, he would hold me in contempt of court and send ME to prison. What choice did I have but to take her? So up we went, every month to the prison. Of course, he wasn't remotely interested in seeing his daughter. He just used the visits to try and manipulate me, try and stop me from divorcing him and then when I would not agree, make threats of violence and worse when he was released.
It is so disappointing to me that 35 years later, women are still being further abused by their abusive ex partners and the family courts appear to collude with them in this ongoing abusive behaviour.
According to Wikipedia – Parental alienation is a theorized process through which a child becomes estranged from one parent as the result of the psychological manipulation of another parent. The child's estrangement may manifest itself as fear, disrespect or hostility toward the distant parent, and may extend to additional relatives or parties.  The child's estrangement is disproportionate to any acts or conduct attributable to the alienated parent.
All of these, so called, manifestations of fear, disrespect and hostility, are also apparent when a child is terrified of the 'distant parent'! Yet, this very simple logic rarely seems to be considered in the family courts.
And I have worked with many, many women in the past that have been through the family courts system and who have been forced, as I was, to take their children to contact with their abusive ex partners, even though the courts have acknowledged in a lot of the cases, that that person is abusive and/or violent. Let me tell you, to take a child to see someone they are terrified of and to have to leave them with that person, is absolutely soul destroying and goes against every single maternal instinct that woman has. I know. I have had to do it.
I have watched women collapse outside court, slide down walls in court, distressed, hysterical. Lost and broken. Cling to me and beg me to help them. Dramatic?? Trust me, it is heart-breaking. In the last year of working front line in London, I worked with a woman who was pushed out of a third floor window in front of her child. She was on life support for weeks. I visited her every week and sat beside her. Talked to her. Willed her to wake up. Miraculously, she survived but was in hospital for months and was left with life limiting disabilities. The child's father was arrested and bailed pending a fact finding hearing in the family courts between the father and the local authority. I gave evidence in that fact finding. I had been working with the woman for a year before the incident happened. I told the family court of all the incidents she had told me about. The family court ruled in the father's favour. Because of that, the police 'no further actioned' the criminal proceedings. The father got contact with his child who witnessed the incident but was deemed to young to give a statement or evidence. I had told the mother, the father would never be given contact. She believed me! The father almost, very nearly, 'got away with murder'. I swore I would never again give a woman hope by telling them the courts will bring her justice. And I haven't! Because, although some women do get justice, mostly they don't. And now, perpetrators of domestic abuse have another weapon in their armoury – Parental Alienation!
So as I said in my social media posts, our judicial system is broken. Will it be fixed? I'm not so sure it will be.
I want to leave you with this. Something I know every mother reading this will empathise with. When asked what her earliest memory is, my daughter who is now 38 says "Sitting with Mum in the waiting room of the prison, waiting to see my Dad". It still hurts, that that, is my child's earliest memory.