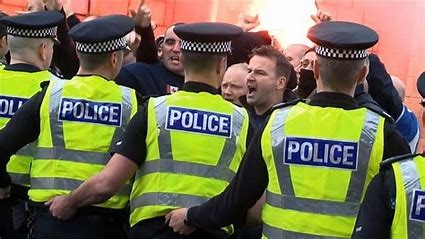 January 30, 2023
One Bad Apple….. does it spoil a whole bunch??!!
I have watched the news this last couple of weeks with a mixture of horror, alarm and disgust as the case of David Carrick has played out across the news, and media. Another one! Completely agree with the CEO of Refuge, Ruth Davison, when she said in an interview that we were not dealing with one bad apple, more like an orchard!
We are told that the MET are reviewing around 1,633 cases of historical domestic abuse and sexual offences by its own officers and staff. And this is JUST the MET! Police chiefs across England and Wales have been asked to review the backgrounds of every one of its officers before the 31st March 2023. I believe one of the ways this will be done is by checking the Police National Computer (PNC). And that is great but no where near full proof. Why? Because we know that domestic abuse and sexual offences are often unreported. In fact, we know that 80% of domestic abuse incidents are not reported to anyone. That is the nature of domestic abuse. So whilst the PNC will pick out the people who have been reported, we can confidently say that 80% will fall through the gap!
Don't get me wrong – I have every faith in Sir Mark Rowley when he says he will be 'ruthless' in rooting out those who corrupt the integrity of the Police force. I have had the opportunity to meet Sir Mark Rowley a couple of times in the past. Probably around 20 years ago and his passion and commitment to end violence against women and girls was clear to see then. I have no doubt whatsoever that he will do his utmost to tackle the problem within the MET. But the fact still remains, if a person has not been reported, they simply won't be detectable.
When I saw the news story about David Carrick, I thought 'Oh God, is it him'!!??
About 15 years ago, when I was managing the IDVA service in Westminster, I dealt with a case of a vulnerable woman who had experienced domestic abuse by her partner. Doubly vulnerable because she was also profoundly deaf. I had taken the case as I am also a BSL signer so could communicate well with her. She was engaged with the criminal justice system and her (now) ex partner was on police bail. One day during a support session with me, she told me that about two weeks after the last incident of abuse from her partner, where she had called the police, there was a knock on her front door at about 10pm and when she went to the door it was the police officer that had attended along with another female police officer on the night of the incident. She didn't actually recognise him from that night – clearly she had other things on her mind then – but he told her he was one of the officers that attended. He told her he was checking how she was. He had a take-away, and a bottle of wine with him!!! Cue major alarm bells in my head! She asked if this was normal procedure? I told her it most certainly was not. She then went on to tell me after this first night, he had returned many times. She felt uneasy as he told her 'his wife didnt understand him'! and was also able to talk to her in detail about other incidents of domestic abuse that she had reported to the police. How does he know about these incidents? she asked me. Clearly, he had searched her on the PNC, something I knew he should not of been doing! I was outraged. I encouraged her to make a complaint but she was so worried that by allowing him into her home on these 'social visits', she had compromised her criminal case against her ex partner, she was very reluctant. Eventually, I was able to get her to agree that I make a third party complaint, which I did. I didn't muck about! I complained to the Borough Commander. I was asked to accompany my client to a meeting with the Borough Commander and although terrified SHE had done the wrong thing, she agreed to attend the meeting with me. There is no doubt that the Borough Commander was shocked at what had happened and he apologised to my client and assured her it would not compromise her case. He told us that he would deal with this at the highest level and that the police officer would be severely reprimanded. I made it clear, I expected him to be dismissed! What happened I hear you ask? To my knowledge, nothing!! I chased it and chased it and never got a satisfactory answer. I felt and still feel sure this was not this police officer's first rodeo! He was so confident when he went to my clients house that evening and every evening afterwards. Thankfully, she did not progress the relationship to anything intimate even though she told me he tried, she felt uneasy and uncomfortable. She felt she could trust me to tell me what was happening. Who knows what may have happened had she not trusted me! It still makes my skin crawl to think of how this police officer actively preyed on this vulnerable woman.
Of course, my fears that David Carrick could be this officer are no doubt unfounded. I can't remember his name as it was 15 years ago but sadly we know that there has always been an institutional endemic of violence and abuse against women in the Police force.
Backtrack to the year 2000. I was working in a refuge. One of my clients who resided at the refuge was giving evidence against her ex partner in court. I was in the public gallery and sat next to the OIC (Officer in Charge) who was an officer in what was then called the Domestic Violence Unit. She was giving her evidence behind a screen, clearly distressed and I willed her to see it through, as hard as I knew it was for her. The police officer leant towards me and whispered "If that was my wife, I would of f*****g broken her legs!" I turned to look at him. Se smiled smugly at me. I couldn't believe what I had just heard! But I had heard him correctly. I couldn't react – we were in court. I was shocked and again, outraged. I wasn't sure what to do. At this time I had only been working in the sector for a couple of years. But I knew quite a few police officers in the Domestic Violence Unit and confided in one of the female officers who told me, in confidence, that no one liked him. That he had been transferred from the MET. That his ex wife was also a police officer in the MET and she had reported him for domestic abuse. The police force decided the best way to handle this situation was to move HER to another police force. But she refused and insisted they move HIM. So they did, to the Domestic Violence Unit in the county where I worked in the refuge. What was this? Some sort of sick learning curve?? There is nothing we can do about it, she said. That is just what happens.
This was in the days before information sharing in domestic abuse was accepted as the best way forward and this police officer would often call the refuge to enquire as to whether different women were in the refuge. I always refused to tell him. He would sarcastically say "Oh come on Sharon, how can we do our job if you don't help us"? To which I would say – "Well, for all I know you could be a perpetrator"!!.
Fast forward to 2022, myself and a colleague went to visit a women's prison as part of my Prison Partnership Project in my day job as Head of Partnerships and Development at the National Centre for Domestic Violence. We met with 3 women who had been imprisoned for crimes against their ex partners, where domestic abuse had also featured in their relationships. All women felt they had been unfairly treated by the police and the justice system. That they had not been believed and were not listened to. One of the women, had been married to a police officer! This had no doubt prevented her from reporting him for many years and contributed to her attacking him in self defence after years of abuse. She had been sentenced to years in prison. No such punishment was given to him!
When I managed the IDVA service in London, we worked very closely with the CSU (Community Safety Officers) and Sapphire Unit (Sexual Offences Unit) police officers. One Christmas, we decided to have a joint Christmas meal and a drink. We went to a club in Covent Garden. I personally witnessed a Sapphire Unit officer chatting up a woman at the bar. She was there with her partner and when he approached, naturally angry that his partner was being 'hit on' by this man, the police officer got his warrant card out and held in up to the man's face and said "What are you going to do about it then"?! We never went out with them again!!
Men who abuse women are driven by the need to be in control and to have power, for whatever reason. We know this. Careers that require an element of power and control will attract abusive men. Careers such as being a police officer! They can hide in plain sight. They can get their kicks by just doing their job! And they are protected by their jobs. So many times, I have worked with women whose partners are police officers and they tell me, they were always told if they reported the abuse to the police, no one would believe them. They WERE the police!! And it is true!
It has always been there. Police abusing their roles and abusing women. No, not all police officers are like that. Of course not. I have worked and know many police officers who are sickened by the actions of those officers who are in 'that orchard'! But that orchard is huge! Had it not been for the tragic murder of Sarah Everard by an acting police officer, most of us would still be in blissful ignorance that the people that we should be able to trust and who are there to protect us, are not always the upstanding pillars of community they make out to be!
So whilst I do have every faith in Sir Mark Rowley and every other senior police officer in all other forces across England & Wales, I fear they have an insurmountable challenge ahead of them.
All any of us can hope for is that when and if we need them, we will be dealt with by 'apples from a different orchard'!! which of course, there are many.