January 18, 2016
A day in the life of a Domestic Abuse Consultant!
Today, it took me two and a half hours to get into London to work.  It was freezing.  I wondered, as I have done so many times in the past, why I do this?!.  I spend a minimum of 4 hours daily, travelling.  The work of a domestic abuse specialist is not always easy.  Most of the time you wonder if you really are making any difference – in fighting the constant stigma, myths and stereotypes of Violence against Women and Girls.  I was thinking just this, this morning.  And then this happened………………..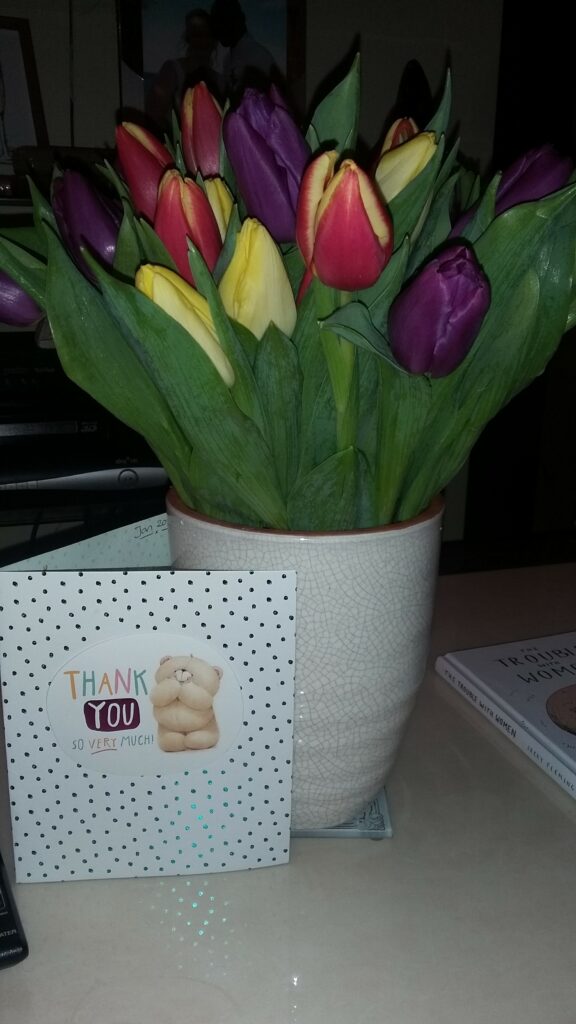 One of my clients gave me these beautiful flowers and card.  And I remembered why I do all the travelling.  Why I do the job.  Don't misunderstand me, I don't feel I have done anything really to deserve this thank you gift.  She has done it all.  She has turned her life around for herself and her children.  I have just been there to encourage her, to remind her she is strong and to hug her when she has felt it is all too much to deal with.  But to know that she has appreciated that, makes me proud to be a Domestic Abuse Consultant.  And I remember, that I do make a difference, no matter how small.  We all do.